RATES
WINTER 2020/21
Period
Apt
Standard
2 persons
Apt
Primula&Soldanella
4 persons
until 19.12.2020
€ 58,00 - 68,00
€ 125,00
20.12. - 24.12.2020
€ 78,00 - 88,00
€ 180,00
24.12. - 06.01.2021
€ 98,00 - 108,00
€ 230,00
06.01. - 09.01.2021
€ 78,00 - 88,00
€ 180,00
09.01. - 23.01.2021
€ 58,00 - 68,00
€ 132,00
23.01. - 06.02.2021
€ 68,00 - 78,00
€ 145,00
06.02. - 13.02.2021
€ 75,00 - 85,00
€ 165,00
13.02. - 20.02.2021
€ 98,00 - 108,00
€ 230,00
20.02. - 27.02.2021
€ 75,00 - 85,00
€ 165,00
from 27.02.2021
€ 58,00 - 68,00
€ 125,00
SUMMER 2021
Period
Apt
Standard
2 persons
Apt
Primula&Soldanella
4 persons
until 25.06.2021
€ 58,00 - 68,00
€ 125,00 - 140,00
26.06. - 09.07.2021
€ 78,00 - 88,00
€ 170,00 - 190,00
10.07. - 30.07.2021
€ 94,00 - 105,00
€ 200,00 - 220,00
31.07. - 27.08.2021
€ 100,00 - 110,00
€ 235,00
28.08. - 03.09.2021
€ 78,00 - 88,00
€ 170,00 - 190,00
from 04.09.2021
€ 58,00 - 68,00
€ 125,00 - 140,00
Offers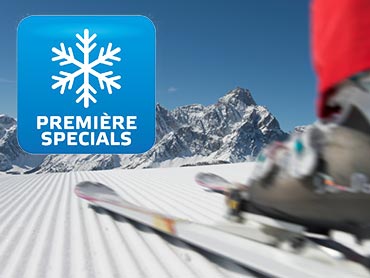 Dolomiti Super Première
Special offer for the season beginning
4=3 is the magic formula to begin the winter season with 1 day for free with a minimum 4 night stay
Offer valid from the 27th November to the 19th December 2020.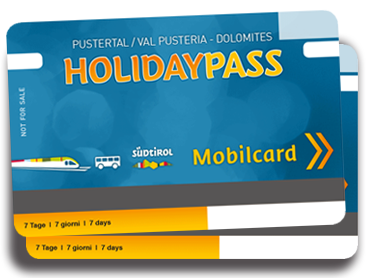 Holiday Pass
Free of charge for our guests
Allows unlimited use of all ski buses in the Pusteria/Pustertal valley as well as of all means of public transportation (including regional trains) throughout South Tyrol and to Cortina in winter season 2018/19.
Alpinschule Drei Zinnen
Guided tours
In collaboration with the Alpinschule Drei Zinnen we offer 4 guided tours in the Dolomites.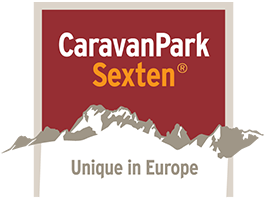 Caravan Park Sesto
SPA Wellness
In collaboration with Caravan Park Sesto we offer reduced entrance to swimming pool and Wellness area of Meridian SPA.
Information
Inclusive services
electricity, water and heating

towels, bed and kitchen linen

in all of the apartments: toaster, coffee machine, italian mokka and fridge

Apartments Primula&Soldanella: microwave, dishwasher and electric kettle

ski and bike deposit for your sport equipment

ski shoe dryer

W-LAN

private parking

bread service upon request

cot
use of washing machine and dryer
shuttle service (on request) from San Candido train station

unique panoramic view ofer the Dolomites
General information
Prices shown will attract a tourist tax of € 1,35 per person aged 14 years and over and per day.
The prices are intended with a minium stay of 7 days. Prices for a shorter stay upon request.
For every additional person we calculate 15,00 €/per day in the standard apartments and 20,00 €/per day in the apartments Primula and Soldanella
Final cleaning: 35,00 € - 55,00 €
Free accommodation for children under 3 years.
Payment
Your booking is binding after having paid a deposit of 1/3 of the total amount within a week.
The balance will be paid at the time of departure.
Bank details: Holzer Patrick Cassa Rurale Alta Pusteria Filiale Sexten/Moos
IBAN : IT21N0802058910000303283917
SWIFT: RZSBIT21109
payment: cash, cheque or via bank transfer in advance
Cancellation
The right of withdrawal as laid down in the Consumers' Code is not contemplated – however, we are willing to apply the following cancellation policy:
For cancellations up to 30 days before arrival the deposit will not be refounded.
COVID-19: If the government prohibits entry for touristic reasons, the deposit will be refunded.
Lovely furnished
7 completely equipped holiday flats for 2-6 persons in Sesto-Moso – in the heart of the Three Peaks/3 Zinnen in the Dolomites
Request